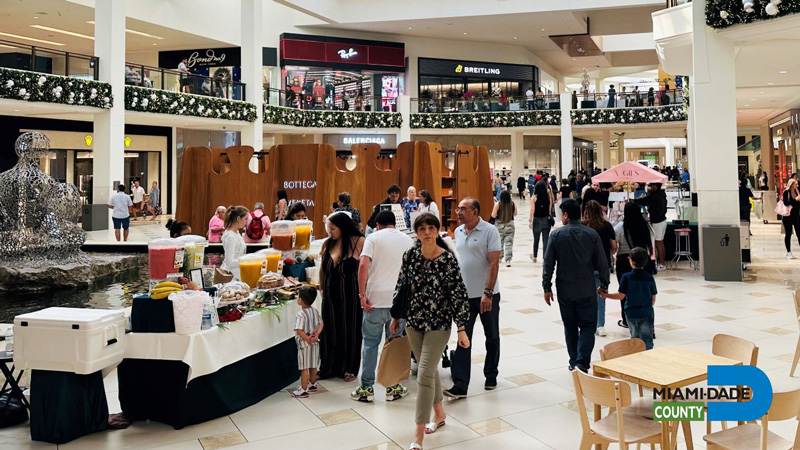 South Florida is known for not only its beaches but also for the great shopping opportunities. Thieves may take advantage of the high volume of customers in stores and online, to cash in on some common scams. The Miami-Dade County Department of Regulatory and Economic Resources' Office of Consumer Protection would like share with you some simple tips to shop safely and protect your wallet during busier holiday times and year-round.
Save store and online receipts. For online shopping, keep copies of your order number, the refund and return policies, shipping costs and warranties. Read more online shopping safety tips
Do not carry a purse or wallet, if possible. Consider bringing a security travel pouch instead. Be extra careful if you do carry a wallet or purse. These items are the prime targets of criminals in crowded shopping areas, terminals, bus stops, on buses and in other public places
Have your I.D. with you. Always carry your driver's license or identification along with necessary cash, checks and/or a credit card you expect to use
Less cash is better. Avoid carrying large amounts of cash and if you are going to carry cash, keep it in your front pocket
Pay by credit card when possible. Credit cards have more security features than a debit card and if your credit card is compromised, at least your information is not directly linked to your bank account
Have credit card company phone numbers handy. If you discover that a credit card is missing, notify the credit card company as soon as possible. Don't assume that you misplaced the card and will find it later. Keep a record of all of your credit card numbers in a safe place at home.]
Beware of strangers. Con-artists may try various methods of distracting you, including working in teams, with the intention of taking your money or belongings
Stay calm and alert. Recognize when you are rushed, distracted and stressed out, and stay alert to what is going on around you
Read sale ads carefully. Some ads may say "quantities limited," "no rain checks" or "not available at all stores." Before you go shopping, call ahead to make sure the merchant has the item in stock. If you are shopping for a popular or hard-to-find item, ask the merchant if the item can be placed on hold
Originally published at https://www.miamidade.gov/global/news-item.page?Mduid_news=news1512152065110764
The post Helpful shopping safety tips to keep you protected first appeared on City News Miami.
Miami - City News Miami originally published at Miami - City News Miami