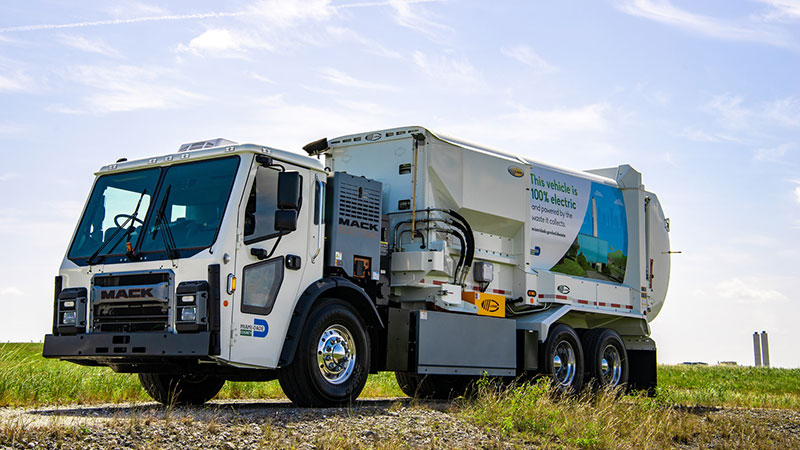 The Miami-Dade County Department of Solid Waste Management (DSWM) recently introduced its first-ever electric-powered waste collection vehicle at its waste-to-energy facility, the Resources Recovery Facility (RRF), in Doral. 
The vehicle will collect waste in an area surrounding the RRF. The vehicle will be parked at the facility to charge overnight and the electricity used to recharge the vehicle is produced on-site via waste incineration. 
Essentially, the vehicle will be powered by the waste it collects.
The electric waste collection vehicle features dual electric motors that produce 448 continuous horsepower and 4,051 lb.-ft. of peak torque from zero RPM. Four NMC (Nickel Manganese Cobalt Oxide) lithium-ion batteries provide power, which is recovered while driving via the vehicle's two-stage regenerative braking system. 
The total vehicle cost is $688,619, including $39,465 for the charging system and a 60 month/250,000 service agreement for $33,000. Routine maintenance will occur yearly rather than quarterly, as is customary with vehicles powered by fossil fuels. 
At current fuel pricing levels, DSWM should see a return on investment by year five (year six if fuel prices decrease). The truck has a useful life of seven to eight years. The immediate environmental benefits include the vehicle's zero emissions and noise reduction typically associated with diesel engines.
Originally published at https://www.miamidade.gov/global/news-item.page?Mduid_news=news1660655844469764
The post Learn about the County's first-ever electric-powered waste collection vehicle first appeared on City News Miami.
Miami - City News Miami originally published at Miami - City News Miami