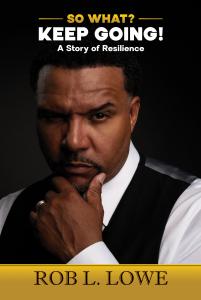 "So What? Keep Going!: A Story of Resilience" takes readers on a transformative journey of resilience and determination.
ORLANDO, FLORIDA, UNITED STATES, October 31, 2023 /EINPresswire.com/ — It's My Story Media and Marketing is proud to announce the release of a powerful new autobiography, "So What? Keep Going!: A Story of Resilience" by Rob L. Lowe. This remarkable debut, now available in eBook, Paperback, and Hardcover formats, offers a raw and unfiltered account of Lowe's journey through abuse, trauma, racism, unhealthy relationships, and corporate setbacks, ultimately triumphing over adversity with unwavering determination.
In "So What? Keep Going!" readers are invited to embark on an electrifying rollercoaster through the life of Rob L. Lowe. Lowe's narrative is a testament to the strength of the human spirit and its ability to overcome seemingly insurmountable obstacles. From his early struggles to his towering triumphs, the book provides a transparent look into the transformative power of relentless perseverance. Lowe's story is a reminder that, in the face of daunting challenges, the essence of the human experience thrives in the refusal to give up.
Rob L. Lowe is not only an accomplished author but also a motivational speaker and HR executive who hosts his podcast show "In His Voice." Through his autobiography, he shares his journey of personal growth and success. Readers will experience a wide range of emotions as they delve into Lowe's life – from tears and laughter to joy, love, and anger. "So What? Keep Going!" is more than just a book; it is a source of motivation and inspiration for anyone who has doubts about what they can achieve and what life has to offer.
Readers have praised "So What? Keep Going!" as an inspiring and emotionally charged journey. Rob Lowe's raw and captivating story offers inspiration to anyone questioning their potential and the possibilities life holds. Rob L. Lowe's narrative takes readers through a rollercoaster of emotions, inviting tears, laughter, joy, love, and even anger. It's described as a must-read for those seeking motivation and inspiration, perfectly encapsulating its title, "So, What? Keep Going!" The book is recognized as a true testament to one's ability to shape their own destiny, even in the face of adversity, and serves as a beacon of resilience, dedication, and hard work in the pursuit of a meaningful life.
Published by Enhanced DNA, "So What? Keep Going!" is gradually becoming a source of inspiration for all those navigating life's challenges. It offers readers a remarkable narrative of resilience and personal triumph.
Avid readers must get their copy today and set on a journey of determination and hope.

"So What? Keep Going!: A Story of Resilience" by Rob L. Lowe is available for sale on Amazon.
Learn more about Robert L. Lowe at https://itsmystorymedia.com

Robert (Rob) L. Lowe
It's My Story Media and Marketing
[email protected]
Originally published at https://www.einpresswire.com/article/665369121/rob-l-lowe-releases-his-autobiography-so-what-keep-going-a-story-of-resilience-on-amazon
The post Rob L. Lowe Releases His Autobiography "So What? Keep Going!: A Story of Resilience" on Amazon first appeared on Floridas News.
Floridas - Floridas News originally published at Floridas - Floridas News