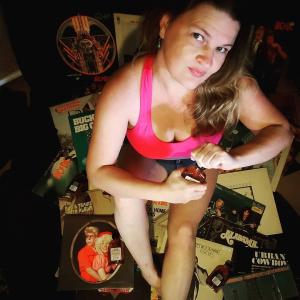 Collabstr supports streamlined content sponsorship management allowing creators the freedom to focus on what matters most.
WESTVILLE, OK, USA, September 5, 2023/EINPresswire.com/ — "WhiskeyChick," the celebrated moniker of Shauna Castorena, a seasoned music and lifestyle blogger with over 15 years of experience in the country and rock genres, is thrilled to announce her exciting partnership with Collabstr.io, a dynamic platform connecting influential creators with brands seeking authentic collaborations.
Known for her unwavering dedication to showcasing talented independent musicians and their favorite products, Shauna Castorena has been a driving force behind CountryMusicNewsBlog.com and CountryMusicOnTour.com. These platforms have established themselves as hubs for passionate country music enthusiasts, offering a plethora of engaging content including featured articles, artist interviews, and live show coverage.
More than a mere nickname, "WhiskeyChick" embodies a vibrant lifestyle that celebrates strong, adventurous women with an independent spirit. Shauna Castorena seeks to align her brand with companies that share this ethos, bringing forth a synergy that resonates with her niche audience.
"It takes more than a shot of bourbon to earn the title of 'WhiskeyChick,' and that's where our potential partners come in," states Castorena. "The women who don this moniker exude confidence, independence, and fearlessness. They infuse every facet of life, from conquering mountains to cherishing time with friends, with an unmatched complex blend of fire and grace."
With a dedicated and organic readership base, Castorena's blogs have consistently dominated search engine rankings within her niche. Having experienced steady growth since their inception over a decade ago, her average follower, a mid-20s female with disposable income, values quality moments with family, country living, frugal luxury, and homesteading pursuits. A true music lover, the typical follower attends a minimum of four concerts or festivals annually.
Collabstr.io's innovative platform presents an avenue for Shauna Castorena to expand her brand's horizons by forging strategic partnerships with brands that cater to her audience's distinct preferences. Through this collaboration, both creators and brands stand to mutually benefit, fostering organic and engaging relationships that resonate deeply with their respective communities.
Shauna Castorena invites potential brands that align with her readers' interests to explore this exciting partnership opportunity. She states, "If your brand speaks to the spirited women who embrace the 'WhiskeyChick' lifestyle, I invite you to reach out today. Let's discover how we can create something exceptional together."
For inquiries and partnership opportunities, please contact:
Shauna Castorena
Email: [email protected]
Website: https://whiskeychick.rocks
Stay connected with WhiskeyChick:
Instagram: @whiskeychickofficial
Twitter: @whiskeychick
Facebook: @WhiskeyChick
About WhiskeyChick:
Shauna Castorena, also known as "WhiskeyChick," is a seasoned music and lifestyle blogger with a remarkable track record spanning over 15 years. Her blogs, CountryMusicNewsBlog.com and CountryMusicOnTour.com, are revered for their unparalleled dedication to promoting independent musicians and their cherished edneavors. The "WhiskeyChick" brand encapsulates the essence of adventurous, independent women, resonating deeply with audiences who value empowerment, authenticity, and quality experiences.
About Collabstr.io:
Collabstr.io is an innovative platform designed to connect influential content creators with brands eager to embark on meaningful collaborations. By facilitating authentic partnerships, Collabstr.io enhances engagement and resonance between creators and their dedicated communities, while simultaneously providing brands with unparalleled opportunities to tap into new and highly-engaged audiences. Through a seamless and user-friendly interface, Collabstr.io transforms creative vision into impactful reality.
Shauna Castorena
WhiskeyChick
+1 918-575-2190
email us here
Visit us on social media:
Facebook
Twitter
LinkedIn
Instagram
YouTube
TikTok
Other


Originally published at https://www.einpresswire.com/article/653895821/music-and-lifestyle-blogger-whiskeychick-partners-with-collabstr-io-to-forge-new-brand-alliances
Life - Miami County Post originally published at Life - Miami County Post